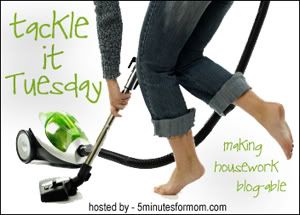 "I wonder what Cheapo is tackling this week?"
You know, I really never thought of grocery shopping as a true "tackle" - but today, it was.
When McFrug first got her local groc store flyer a few days ago,
it didn't look very promising
.
After scouring through coupons, sales and clearance racks a few nice deals reared their heads. Though, a driving trip to Kroger was still warranted. Determined to get the best deals possible (no matter what), Cheapo made 3 trips to groc stores this week. That, my friend, is called grocery shopping overload. I'm very thankful I don't feel the need to do that every week. And, I realized today why Kroger trips are far and few in between.
For the Local Folks - here are a few of the deals I found at Five Star on Monday (10% off day):
Store brand canned veggies - 2/$1.00
Aunt Millie Multigrain Bread - $2.00
Kraft Easy Mac - $1.00
Toasted Sesame Tortilla Chips - Clearance $1.99
Corn King Bacon - $2.50
Frozen Waffles - $1.25
Hershey's syrup - $1.99
Nature Valley Granola Cereal - Clearance $1.99
Fiber One Caramel Delight Cereal - Clearance $1.99
Everything else bought had a sale price and topped it off with my $3.00 store coupon!
Today was triple coupon day - did you use yours??
Pilgrim's Pride Chicken - $2.29 lb. -
$.55 printable coupon
Franks Red Hot - $1.15 - $1.50 Sunday coupon ($$ maker!)
Always Thin - $1.45 - $1.50 P&G coupon ($$ maker!)
Pop Tarts - $2.50 -
$.55 printables
AND $1.00 peelies on some boxes
( I never buy these things; McFrug Jr. was REALLY happy!)
Pillsbury Frozen Cin. Rolls - Clearance $2.99 - $1.20 Sunday coupon (I had 3)
2 Pillsbury Grands Biscuits - $3.00 - $.90 Sunday coupon
Forward and onward to Kroger. Here is why Cheapo doesn't like to shop there - not because of the store itself; it's a great store! A driving time of 45 minutes roundtrip, no parking, long lines, crowded isles, sold out items...anyway. The deals are great when you can get them. Here's a tip for you - if the store is out of a sale item, and it's worth it to you, ask for a raincheck. Normally the checkers have them right at the register. If not, head to the Customer Service desk. Unfortunately, I had to get rainchecks on four different items today. But - they are worth it to me because I have coupons to match with them - which makes them close enough to free.
Krogers deals last until tomorrow, so if you haven't been yet - get moving! It's a nice time to stock up on a few things!
Eggs - $1.00
Kroger Bar or shredded cheese - 3/$5.00
Soymilk - $2.50
Kroger Cream Cheese - $1.00
Starkist Tuna - $1.00
Hellman's Mayonaise - $2.99 - $1.00 double sunday coupon
(by the way, Kroger doubles coupons everyday that are $.50 and under)
Healthy Ones Ham Lunchmeat - $1.00 - $.75 Sunday coupons (I had 3 which made them a quarter per package!) and
$.55 printables
Angel Soft 4 pk toilet paper - $1.00 - $1.00 double Sunday coupon (FREE)
Bananas - $.39 lb.
Baby Carrots - $1.00 per bag
Dole canned pineapple - $1.00
Simply Orange Juice - $3.00 -
$1.00 printable
Eckrige lunchmeat - $1.00
Large Liquid Coffeemate - $3.56 -
$1.00 printable
Chef Boyardee - $.88
Kroger frozen veggies - $1.00 bag
Kroger 1/2 gal. milk or chocolate - $.88!! Limit 4
Raincheck items: Chi Chi's Salsa $1.00 - $.55 sunday coupon, Seapak Shrimp Poppers $1.00 -
$1.00/2 printable
, Dole Bagged Salad $1.00, Pillsbury Crescent Rolls $1.00 - $.50 Sunday coupons.
There are many more deals - but they end tomorrow, so get going!
All in all, I saved $21.50 this week, just by using coupons. I saved MUCH more than that just by shopping the deals. I must say, I spent more than my usual weekly grocery amount - but my fridge and shelves were getting BARE. Sometimes you just get to a point where you finally use everything up. And that's a GOOD point to be at!
I'm tired.
Be sure to check out more
Tackle It Tuesdays
!