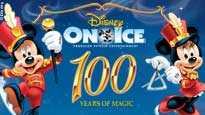 Are you planning to see Disney on Ice or the Ringling Bros. Circus any time this fall?
Mom Central
has partnered with Feld Entertainment, the parent company for Disney On Ice and Ringling Bros. and Barnum & Bailey®, to provide a special family ticket package offer in select cities across the country.
To find a Disney showing near you, click
here
.
For a circus, click
here
.


(If you are not already familiar with Mom Central, they are an online community for Moms, which provides a forum for members to discuss parenting topics and events, sample products, take surveys and connect with other moms across the country. If you have not done so already, visit their site to learn more!)

For the local folks in the Chicagoland area:

Disney on Ice: 100 Years of Magic at the United Center in Chicago

:
Tuesday, September 8th @ 7:00 pm
Wednesday, September 9th @ 7:00 pm
Thursday, September 10th @ 7:00 pm
Friday, September 11th @ 7:00 pm
Saturday, September 12th @ 11:30 am, 3:30 pm, 7:00 pm
Sunday, September 13th @ 1:00 pm, 5:00 pm (Spanish-speaking show)
Here is the discount for you! The savings code word
MOM
can be entered in the Mom Central Promotion Box on
Ticketmaster
. This will give you four tickets for $44.00!** Sounds like a great night of entertainment for only $11 per person!
**get 4 tickets for $44 by entering the code "MOM" at select ticketing channels. Minimum purchase of 4 tickets required; additional tickets above 4 can be purchased at $11 each. Offer not valid on Front Row or VIP seating. Cannot be combined with other offers. Service Charges and handling fees will apply.
McFrug Jr. is now ten years old and has never been to a Disney on Ice show. I believe it is about time. I remember seeing the Ewoks on Ice waaayyy back when (Holy smokes...was that REALLY in 1985??) . Okay, so maybe the Ewoks weren't the most stereotypical girly show to see - nonetheless, it was just an overall great experience. Even more than being amazed at the screens and costumes and music, I remember just being together with my mom, aunt (who is my age) and grandmother.
Good times.
That was then.
Imagine how visual it must be now!
I can't wait to go...can you?
*Honest Blogger Found Here: I am receiving tickets to Disney on Ice in exchange for helping to promote this special family ticket package.*