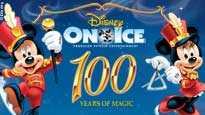 Are you planning to see Disney on Ice or the Ringling Bros. Circus any time soon?
Mom Central
has partnered with Feld Entertainment, the parent company for Disney On Ice and Ringling Bros. and Barnum & Bailey®, to provide a special family ticket package offer in select cities across the country.
To find a Disney showing near you, click
here
.

For a circus, click
here
.
Here is the discount for you! The savings code word
MOM
can be entered in the Mom Central Promotion Box on
Ticketmaster
. (it is a National code!) This will give you four tickets for $44.00!** Sounds like a great night of entertainment for only $11 per person!
Can I just say...Frugal Family Fun??
Last Tuesday, we were given the chance to attend this Disney on Ice showing. But, before the show, we were invited (with FREE parking, up front, might I add) to a special V.I.P. Pre-Event Party in the NBA/NHL room of the United Center in Chicago. As if getting a deal on parking wasn't enough, we were greeted and treated like royalty from the moment we walked through the door. Oh, the children were beside themselves with excitement...as were my husband and I! The whimsical music, colorful decorations and laughter - no detail was spared attention.

As we stood in line to enter the pre-event party room, our son noticed they were handing out goodie bags to each child. He turned to me with a huge smile and shouted, "SWAG!!!" (that's my boy!) Along with coloring pages and crayons on each table, every child received a very generous bundle of loot! Missing from this picture is also a Monster truck stuffed pillow and a few other little things. Wow!


Oh! Finally!! I got to meet Meghan Daly. She is the
Mom Central
Consultant whom which I had been corresponding. Through her emails, I could sense that she was the kind, hard-working type who went out of her way to answer every question asked. In person, she is a true sweetie. From the bottom of my heart, I want to thank her for the opportunity and the memories she helped to create for my family that evening! Also, a quick shout out to Jon Troy and Maureen Morrison from
Feld Entertainment
- thank you for your time and energy in preparing for this event!
Pictured L-R: me, Meghan, my good friend
Michelle
Feld Entertainment is the largest producer of live family entertainment in the world. Their productions have played in over 50 countries on six continents around the globe and they play to an average of over 100,000 people every day. Did you know they also produce Monster Jam?
(which invades Allstate Arena Feb. 12-14, 2010)
Who doesn't love the Grave Digger?
Coming to Chicagoland November 5-29, 2009, Ringling Bros. and Barnum & Bailey presents ZING ZANG ZOOM, a thrill filled, mind-blowing circus spectacular where family fun is no illusion. The fun begins an hour before the show with Ringling Bros. Clown College at the all access pre-show, FREE with your ticket!
During the party, we were graced with the presence of none other than Mickey and Minnie themselves! The luxury of Disney World without going to Florida. *wink*
During the entire reception, servers consistently were coming around with trays of kid-style drinks: soda and Capri-sun. Then, a dinner invitation! Look at this buffet, specifically prepared with children in mind!
Menu: Salad, Chips & Salsa, Spiral Mac & Cheese, Mini Hot Dogs, Cookies and Brownie Bites!
Throughout all of the festivities, smiles never left the children's faces. As some of the children walked into the room and saw Mickey, they squealed with delight - more exciting than Santa!
At one point, McFrug Jr.'s good friend looked up at me with wide eyes and amazement. She said, "I feel so ImPORTant!"
That you are, girlie.
**Alert: Show Spolier! If you are planning to attend this show, you may want to stop looking at pictures here. Granted, the dim lighted pictures shown below give no justice to the magic the live show brings. But, ya know.**
Carrying our full bellies and dragging the ever-so-generous swag bags, we set out to find our seats. Would you believe, even with everything else we had been given, we sat on the floor in the FIFTH row?

!?

The fun just never ends!
My favorite picture of them all...the
Belle
of the Ball.
One thing we realized - Disney has sure created a LOT of characters in 100 years. Of course, not ALL of them are represented in this show - we would've been there all night! Though, the children had fun guessing who was coming out next and who didn't show up at all.
A few fun logistics from the show?
It was a 2 hour showing.
They allowed flash photography.
There was an intermission after the first hour.

There are many vendors walking around with toys, cotton candy, etc. Beware, they are VERY expensive! Unless you want to buy those things, you might want to warn your children ahead of time. (ie: $10 for cotton candy with a princess crown attatched)
Food? Without a pre-event party - also rather pricey. You may want to fill up before you go.

They do ask to open bags at the door (for security purposes)
Parking: The normal cost at the United Center was $20. If you weren't expecting this, you may want to call your venue ahead of time to get the price.

So how does Cheapo fit in to all of this? By becoming an FFA (Feld Family Activator), we had this fun, family evening all for FREE! Besides the time spent online, the only thing we paid for was the fuel to get there.
Affordable? I would say so.