When you were a kid (or maybe as an adult), did you ever go to a circus?
I did.
When I was litt
le - seventy's, early eighties (I KNOW, right?) - and the circus came to our little Midwester
n Indiana town, everything else seemed to stop. I remember bike riding around the neighborhood
and being excited at the sight of a circus promo poster nailed to a wooden telephone pole. I would ride up to it. Stare at it. Repeat the date over and over again as to not forget when telling my mom later in the day.

"We just HAVE to go mom! We just HAVE to! Can we? PLUH-EESSE??"


Now, money was rather tight in my growing up. There were good times and rough times, but my parents tried not to let me know it. I knew that if those blue and red paper tickets showed up under a magnet on the fridge doo
r, this was an event to appreciate
.
Finally, the day would come. If you got up REEALL early that morning, you could walk down to the circus site and see the elephants raise the big top tent. We never did, but we should have. Of course, our tickets were always schedul
ed for late in the day when my dad got home - which made the day last for-EVER - along with bothering my mom all day with, "Is it time yet? I'm bored. Is it time yet? What time is it? We should get there early."


Show time!


The smells. The sights. The clowns. The yelling of "Get
cha peanuts" and "Program books here!" Oh how I longed for one of those program coloring books. I knew better than to ask because I just felt lucky being there in the first place (though, I did win one in a ticket contest - I believe I still have it, full of glitter glue.) Sometimes, we would share a bag of peanuts. Remember how fun it was to be able to throw the shells to the ground? Funny the things that are ex
citing to a child. Another year, I got to ride on top of an elephant, which was scary and fun all at the same time. I don't know how many kids were up there - seemed like hundreds because I kept feeling like I was going to fall off. Of course, I wasn't and I didn't. If I'm not mistaken, there is a Polaroid somewhere of that maiden voyage.
Must.
Find. It.
Going to the circus provided many entries in MY childhood "museum of memories." Have I ever taken my son? Unfortunately...no. I suppose as you get older, the magic tends to die a bit. Anticipation dwindles. You see things in a different light. Wide-eyed child fascination can turn into mistrust an

d doubt. I'll be honest,

animals being "made" to perform tends to give me an uncomfortable feeling - no matter what the
situa

tion.

Even Shamu makes me cry - though I'm unsure if it's out of sadness, love or wonder

.

MY feelings of pity have kept HIM from having a magical, circus experience.
(to learn more about the Ringling Bros. Center for Elephant Conservation and how you can help, click here)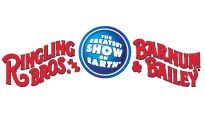 Well, guess what? The Ringling Bros. and Barnum & Bailey Circus is showing near us soon. When I heard this, I was still unsure if I wanted to go. So, I decided to "secretly" ask my friends about their circus memories. "Did you ever go to the circus as a kid?", I posed to one of my closest girlfriends. Her stout answer was, "Oh my gosh, YES! And it was THE most amazing thing I have ever seen; I'll never forget it! Ever!"
Circuses are such a part of our American history. How do you truly understand the old stories if you have never experienced it for yourself? Granted, long gone are the days of the bearded ladies (except for you Adam), strong men and lizard boys. Though, some of the old elements of the silly clowns, high flyers and cannons are still made part of each act.
I do want my son to understand the circus life of days gone by. I do want him to be amazed at the illusions and feats. I do want him to feel the childhood circus magic, before his childhood is gone.
Would you like to provide this fun experience for your family? Ringling Bros. and Barnum & Bailey Circus: Zing Zang Zoom is coming to Chicago!
Kristina Dorne and Meghan Daly, from
Mom Central
, has paired with Feld Entertainment to bring you a special offer!
Purchase a 4-pack of tickets for only $44 (Valid Monday-Thursday and Friday Matinees, excluding holidays) and save $4 on all weekend shows by logging onto Ticketmaster and entering the coupon code:

MOM

*
*Use promotional code MOM when purchasing tickets at Arena Box Offices, www.ticketmaster.com or by calling 1-800-745-3000. Enter code in the "MC Promotions Box" on Ticketmaster. Minimum purchase of 4 tickets required. Not valid on Circus Celebrity, Frong Row or VIP seats. No double discounts. Service charges and handling fees may apply.
The Chicago event has two venues:
Allstate Arena in Rosemont, IL
November 5-15, 2009

Thurs. Nov. 5 - 7:00 pm
Fri. Nov. 6 - 10:30 am & 7:00 pm
Sat. Nov. 7 - 11:30 am, 3:30 pm & 7:30 pm
Sun. Nov. 8 - 1:00 pm & 5:00 pm
Wed. Nov. 11 - 7:00 pm
Thurs. Nov. 12 - 7:00 pm
Fri. Nov. 13 - 7:00 pm
Sat. Nov. 14 - 11:30 am, 3:30 pm & 7:30 pm
Sun. Nov. 15 - 1:00 pm & 5:00 pm


United Center in Chicago, IL
November 17 - 29, 2009

Tues. Nov. 17 - Community Night
Wed. Nov. 18 - 7:00 pm
Thurs. Nov. 19 - 10:30 am & 7:00 pm
Fri. Nov. 20 - 10:30 am & 7:00 pm
Sat. Nov. 21 - 11:30 am, 3:30 pm & 7:30 pm
Sun. Nov. 22 - 1:00 pm & 5:00 pm
Tues. Nov. 24 - 7:00 pm
Wed. Nov. 25 - 7:00 pm
Thurs. Nov. 26 - Thanksgiving
Fri. Nov. 27 - 11:30 am, 3:30 pm & 7:30 pm
Sat. Nov. 28 - 11:30 am, 3:30 pm & 7:30 pm
Sun. Nov. 29 - 1:00 pm & 5:00 pm
Would you like to go for

FREE

???
Here's your chance! I am giving away

FOUR

tickets to see

"The Greatest Show on Earth!"

- your choice of opening nights:
November 5th at 7:00 pm - Rosemont All-State Arena



OR
November 18th at 7:00 pm - Chicago United Center



From now until Sunday, October 25th - 7:00pm CST, you can enter

THREE

different ways!

(Be sure to leave a comment for each entry or it will not count)


1.)

Leave a comment.

Do you have a circus memory? I do understand that not everyone is in favor of circuses - please, if you don't have anything good to say, don't say anything at all.

2.)

Follow

this blog (left sidebar)

3.)

Twitter

this: Popcorn! Peanuts! Give ME four Chicago Ringling Bros. tickets! (@ItsToni) http://bit.ly/1GahKW #giveaway
A winner will be chosen using random.org. Winners will pick up their tickets (with photo ID) at the Will Call window, the night of the show.
Good Luck!
*Honest Blogger Found Here: I am receiving circus tickets in exchange for helping to promote this special family ticket package.*