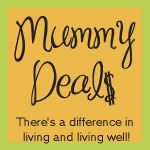 "Hey Cheapo, what ever happened to "Chummy Recipes?"
I'm so excited to tell you that I'll now be guest posting them over at "
Mummy Deals
!"
Frugal ideas and tips on saving money are meant to be shared, right? I am doing my best to find meals and recipes that are tasty, along with costing around $5.00 and under. Not quite as easy as it sounds - but totally do-able!
So, head on over to see this week's "
Chummy Recipe
", and while you are there, click around a bit. Clair always has great information to help you live a frugal lifestyle.