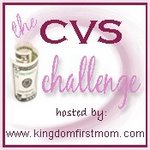 Well, I left my CVS shopping right down to the last minute this week. I knew I was taking a chance that many of the items might not be in stock. Also, I sloppily sorted through coupons without checking my regular internet sites first.
Cheapo Fail.
I did okay - but could have shopped smarter. That's what I get for waiting until the last second.
Dean's milk
: $2.49 - $1.00 ECB (supposed to be $.50 but the machine wouldn't print anything less than a dollar - yeah for me!)
3 Boxes SoyJoy
: $18.00 - $18.00 ECB (I should have done these in another transaction to lower OOP - out of pocket - expense. I probably have a coupon for them too. Does anyone know the "real" limit?)
2 L'Oreal Lip Gloss 75% off
: $4.24 (was hoping they would go towards the L'Oreal special but they didn't; also think I have a L'Oreal coupon)
CVS bonus wipes

: $5.98 - $2.00 ECB
2 Pk. Bonus Cheerios:
$7.99 - $1.00 printable Q - $4.00 ECB
Grand Total: $38.70
Coupons:
$1.00
Prior ECB's:
$33.49
Subtotal: $4.21
Tax: $.57
MY TOTAL: $4.78
Received: $25.00 ECB's
Something else in which I neglected to do; check out
I Heart CVS
before you go. Erica always has the latest CVS coupons and news. I failed to print the
$5/$20
current coupon, which could have saved me even more!
Also, beginning January 17th and ending March 15th, you can sign up online or print out the coupon for double bucks! Be sure to do this because your rewards add up more quickly than you think!
For more $5 Challenges, be sure to visit Kindom First Mom