I can't believe I waited all week before shopping at CVS. Typically, I don't like to wait that long because many of the deals are sold out. Then, you have to deal with rain checks and it messes up your whole shopping mojo. Sunday mornings are best. Anyway, here is what I found.
2 Welch's Juices:

$6.00 - (2x) $1.00 Printables = $4.00

2 Dawns:

$1.94 - (2x) $1.00 P & G mailer Q's = TWO FREE

3 Warm Delights:

$3.00 - (2x) $.75 Sunday Q + $.50 Printable Q = $1.00 for THREE
Total: $10.94
Paid with coupons & $1.00 prior ECB
My total: $4.00 + $.14 tax =
$4.14 cash
I should have gotten a $1.00 ECB back for my green bag tag, but the cashier and I got to talking about printable coupons and both of us forgot! Oh well, I'll get that extra buck tomorrow.
How did you do?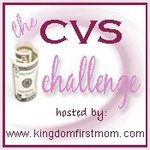 More CVS Challenges at Keeping the Kingdom First and Money Saving Mom.