Cheapo McFrugalpants has found the winner of the Fourth week in the
"
52 Weeks of Cheap Winners
" giveaway!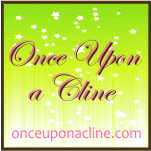 The ticket has been claimed by Natalie of "Once Upon A Cline.
"
She has won a SkinFree Gift Certificate and samples!
When she's not on twitter as
@nataliejanette
, you can find this beautiful working wife blogging about family, hobbies and beliefs from Northwest Indiana. If you need any photography done, Natalie is your girl!
Congratulations Natalie and thanks for checking your ticket!
The next ticket will be pulled from
this little brown recycled box thing
the big golden winner's urn on Monday, September 7th - So
Stay Tuned
!
There is still one more ticket to be claimed by Tuesday, September 8th.
Is it yours??
**If you aren't aware,
HERE
is the contest and
HERE
are the rules - check it out. Also, do you want to play but don't have a ticket? Comment and let me know - I'll get you a number. Or, would you like to sponsor one of the weekly giveaways - let me know that too!**