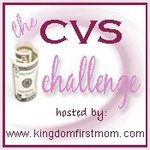 Here's a tip for you...if you like playing the CVS Game, never wait until the very last day of the s

ale to get your deals. The stuff is never stocked. I know better, but just HAD to squeak in a quick shopping trip.
Not bad for a hurry-and-get-to-the-pharmacy-before-it-closes trip.
Glade Soy Candle: $6.99 - $2.00 All You Coupon = $4.99 w/ $6.99 ECB back
The next deal is: Buy $20 worth of noted items, get $10.00 ECB in return
Total (w/o tax): $18.99
Minus Prior ECB's: $15.00
MY Total w/o tax: $3.99
ECB's earned: $16.99
Visit Kingdom First Mom to see how other people are taking the CVS Challenge!