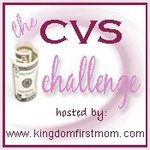 I am sloowwly getting back into my CVS savings groove.
Many of you know that I spent a little time in Maui a few weeks back. Right before I left, I was "forced" to use up all of my ECB's, as they would be expired by the time I came home. I wasn't ABOUT to forfeit them...no way!
So, during the past week or so, I have gradually been stocking them up by buying items that I need which give ECB's. I've finally reached a point where I can start "playing" again. Sometimes you just need to refresh your stock and start over. That's my excuse anyway.
I plan on making several trips to CVS this week, as they have been out of stock on many of the items I've wanted. I even picked up two rain checks* last week, just to make sure I didn't lose out on any deals.
*Did you know that rain checks include ECB's? So, if a hot item is on sale, don't hesitate to ask for one!
Here is what I picked up today:
(I planned on picking up a few more items, but the shelves were sadly empty)
3 Dove Men + Care face & body wash:

$15.00 - $1.25 Sunday Q - (2x)
$1.50 Printables
- $2/10 Skin Care Machine Printout/CRT = $8.75
Used:

$6.00 prior ECB
Total Cash:

$2.75 + $1.05 tax = $3.80
Received:

$6.00 ECB ($5.00 Dove deal + $1.00 Green Bag Tag)
Stay tuned for more CVS visits this week.
More CVS savings at Money Saving Mom, The Centsible Sawyer and Keeping the Kingdom First