Body Wash, anyone?
Here I am again with ROUND TWO of the $5 CVS Challenge for this week. Too many great items on sale to pass up! Here's how it went down:
2 Fig Newtons
: $2.00 - (2x)
$1.00 Facebook Q
= TWO FREE
2 2 oz. CVS Sunblock
: $4.38 w/
$5.0
0 ECB back
= I made $.62 on these
(*Hint - this size is not advertised to be part of the deal, but it does work!)
Kotex Liners:
$4.99 - $1.00 Sunday Q -
$1.00 CVS Store Q
= $2.99 w/
$1.00 ECB back
(*Hint - dont' forget that you can use STORE coupons on top of MANUFACTURER'S coupons)
3 Pantene Nature Fusion
: $7.50 - (3x)
$2.00 Vocal Point Q
= $1.50 for THREE
2 Nivea Wash for Men & Nivea Wash w/bonus lotion:
$15.97 - (3x) $2.00 Sunday Q = $9.97 w/
$5.00 ECB back
2 Softsoap Nutriserums:
$5.98 w/
$4.00 ECB back
I used my $5/$40 CVS printout plus $17 in past ECB's...and of course I ALWAYS bring my own cloth bags and remind them to scan my Green Bag Tag - those add up quick (especially when you visit the store 2 or 3 times a week.)
Grand Total: $40.82
Subtotal: $2.82
Tax: $2.38
My Cash out of Pocket:
$5.20
w/ $15 ECB back
How much do you love it? *wink*
You can read about my first trip this week
HERE
.
Cashier:
Wow, you must really have a LOT of storage space at your house.
Me:
Yeah, I do...well...and I give a lot of this stuff away.
Cashier:
Really? That's great...especially if you are only paying five bucks for all of this!
Me:
Anytime I can get things for free, I do...then, when I give it away, it makes me feel good and helps someone else at the same time!
Cashier:
Yeah, that's awesome.
What do you do with your freebies? Share with us!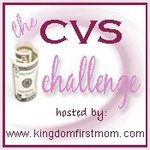 More CVS Challenges at Keeping the Kingdom First, The Centsible Sawyer, Deal Seeking Mom and Money Saving Mom.