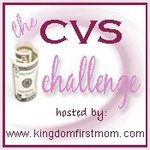 As of lately, I'm sure the girls at CVS have wondered if I dropped off the face of the Earth.
I just haven't had time to organize my trips and go.

*GASP*

I know, right?
But...I'm back...and here is what I scored today.
4 Vitamin Waters:
$4.00 - (2x) $1/2 Sunday Q = $2.00
3 First Aid Kits:
$2.97 - (3x) $1 Sunday Q = THREE FREE
2 Oral B Toothbrushes:
$5.98 - BOGO Sunday Q = $2.99 w/$2 ECB
Puffs w/Lotion:
$1.50 - $1 Vocal Point Q = $.50
2 Fig Newtons:
$2.00 - (2x)
$1 Facebook Q
= TWO FREE
Biore/John Frieda Deal:
$18.49 - $6.00 Biore BOGO Sunday Q -
$2.50 John Frieda Printable
= $9.99 w/$5.00 ECB
Total: $34.94
After coupons and prior ECB's, I paid...
$.98 + $1.48 tax =
$2.46
.
Received $7.00 ECB
Yup...for all of that.
Also - do you have a CVS coupon printer at your store...ya know...the one where you scan your shopper card and it spits out store coupons? Today I received four coupons and one was for $5 off $40! Had the Colgate Clinical been in stock, I would've used this coupon immediately (BTW, I did get a rain check for the toothpaste. Don't fail to do that!) Though, with the Nivea deal going on, I figured I would be back again this week.
What did you find for under five bucks?
Find more CVS Deals at Keeping The Kingdom First, The Centsible Sawyer and Money Saving Mom.
**Also, don't forget to enter my giveaway for an Energizer Recharge Smart Charge
HERE
- Ends April 29th!**