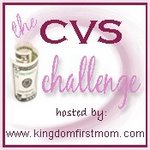 Yes, Cheapo has been sighted at the local CVS two days in a row.
(I know they must think I'm nuts there)
Yesterday
, I snagged last week's deals. Today, I scored with this week's sales! And...if they are lucky...I may even go back one more time. *wink*
Pepsi Co. is having a great Extra Care Buck sale ... Buy $20 worth of items, receive $10 ECB in return. When you combine that with the $5/$20 printable and a few other Q's, you're making out like a bandit - and you can do this TWICE!
I did two transactions just to be able to roll some ECB's and get some freebies.
#1 Transaction
3 Boxes of Soy Joy bars: $18.00 (the ad says limit 1, the store says limit 3 - the real limit is 6)

Paid with $18.00 ECB from yesterday's Soy Joy's
Received: $18 ECB back
Total: $0

#2 Transaction
3 12 Pks. Pepsi Co. Pop: $10.00
Gatorade: $1.25 (finished the deal - rec'd $10 ECB)
J & J First Aid Kit: $.99 - $1.00 Sunday Q = FREE
2 L'Oreal Lip gloss 75% off = $4.24 - $2.00 in printables here = $2.12 for TWO
2 Oust air & surface: $7.98 - BOGOF Sunday Q = $3.99 for TWO with $6.00 ECB
Subtotal: $33.46
Coupons:
$9.98
CVS Coupon:
$5.00
ECB paid:
$18.00
Tax: $1.46
Cash Total: $1.94
ECB Received: $16.00
So, in all, today I got $51.46 worth of items for a buck ninety-four.
It's a good day.
Visit Kindom First Mom for more $5 CVS Challenges,
Money Saving Mom for other deals, The Centsible Sawyer and Deal Seeking Mom.