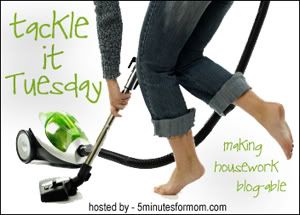 "Hey Cheapo! Did you tackle something this week?"
Because of THIS and THIS and THI
S...

McFrug ended up with THIS..
.
So...
She had to clean out THIS...
Move it, and make it look like THIS...
In order to do THIS...
Please pay no attention to the chipped paint in/on/around the cabinet areas. This house will be 100 years old next year and really, who has time to fix chipped paint? I totally have more important things to do...like clip coupons and drink wine on my Friday nights.
More Tackle It Tuesdays at 5 Minutes for Mom!